« Back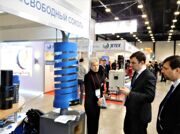 Cluster of Water Supply and Water Disposal participates in Aquatherm St. Petersburg 2017 exhibition
19.04.2017 13:16
Aquatherm St. Petersburg 2017 is a specialised exhibition hosting equipment for heating, water supply, ventilation, air conditioning and technologies for pools. It was opened in ExpoForum on 19 April.
Cluster of Water Supply and Water Disposal presented a stand that welcomed the exhibition participants to familiarise themselves with activities of five companies, member of the Cluster. These companies were SBRKS, high-duty cast-iron pipes and fittings producer from Lipetsk, Tvell that presented UMV-8 machine, the world's first automated polymer filter, Rekon, water preparation and disposal chemicals supplier, Hawle, high-quality water supply and disposal hardware producer and Aeropag, leading Russian dosing machines manufacturer.
70 companies from Russia, Belarus, United Kingdom, Germany, China, South Korea, Romania, Turkey and Uzbekistan took part in Aquatherm St. Petersburg exhibition.
The programme included a conference dedicated to modern microclimate systems. Besides, companies' products were presented at the special demonstration platfrom. Aquatherm St. Petersburg closed on 21 April.